Usually, this blog is a space for our knowledgeable, talented stylists to share little bits of styling wisdom and all the hair tricks they have up their sleeves. But I really wanted to jump on here today and to fangirl about my latest obsession from Oribe, because I can't stop talking about it (and everyone in my life has already heard me raving about this stuff, more than once).
My name is Anya – I'm Extology Salon's social media and marketing gal, and so despite thinking about hair all day, I actually have no styling knowledge or experience, and often find myself in the same position many of you might be familiar with: staring at my wet hair, post-shower, dreading another tedious self-administered blowout, knowing I won't be all that wowed or satisfied with the end result. Plus, lately, I've found my hair a little limper and flatter than I would like, so styling has been a real chore. (I'm blaming the cold winter, forced air, and possibly also just getting older).
Enter: the Imperial Blowout Creme which has, without exaggeration, Changed. My. Life. Extology's founder & Master Stylist Allana recommended I try the new product and I was hooked after one go. My hair is fine, so even though I have a lot of it, it's hard to get it to look styled and bouncy, no matter how much round brushing I do. This cream seems to just add a thickness to my hair, making the heft of it somehow double and giving my ponytail or my updo that necessary "oomph." I've never seen a real "volumizing" product work the way this does; it truly feels like magic.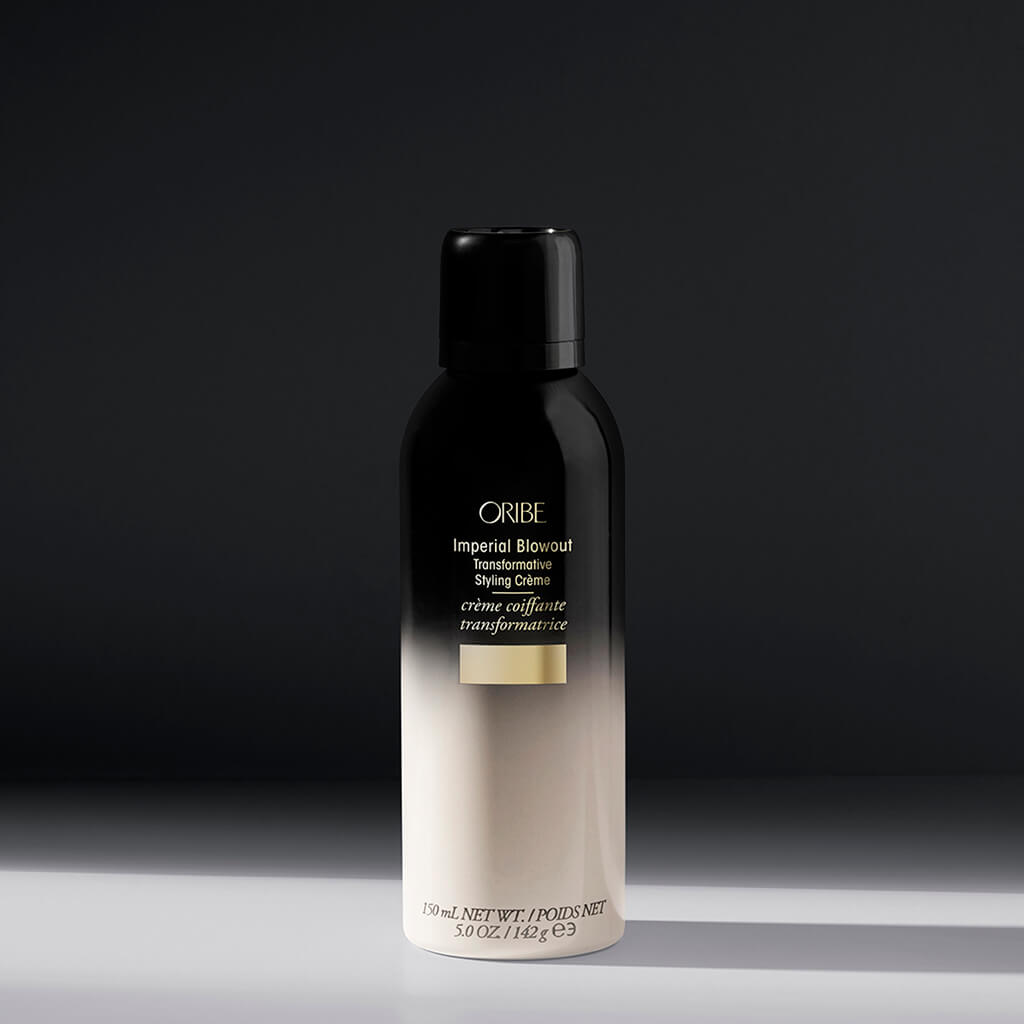 Well, maybe not magic, exactly. Oribe lists several potent powerhouse ingredients in the Imperial Blowout Creme that are more likely to be doing the trick: there's blends of antioxidants and polymers to nourish and hold style, amino acids to strengthen the hair and moisturize the scalp, and quinoa, rice, and soy extracts that are responsible for that fullness and density that has changed my relationship with my changing hair. Plus, it's got that addicting signature Oribe scent, which lingers well into day two or three post-wash.
So, I'm in love. I've never wanted to tell more people about a hair product or been more excited when it's time for wash day – ever. My hair feels like mine again, and my updos look like I've spent hours teasing and styling when I really just run a cream through and then blow out. One bit of styling advice: a little goes a long way. I use a lot if I really want a va-va-voom look, but I end up needing to wash my hair sooner. For an everyday look, I just use a bit in places where I need it: crown of the head, a bit on my bangs, etc. You'll find the sweet spot.
Pick up a bottle at our Boston salon's retail wall, or ask your stylist to use some at the end of your next appointment. Take it from me, a non-hair-expert: the Imperial Blowout Creme will make you feel (and look) like a total hair pro.